Tree Trimming & Pruning
Caring for Trees throughout San Jose for 25 Years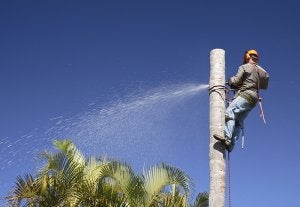 As a homeowner, we at The Tree Team know how busy you are. Whether you are working, raising a family, or both, you don't have time to trim and prune your trees, much less notice if they need any upkeep at all! However, if you know it has been a long time since your trees have been cared for, it is ideal you have us come out to evaluate your trees to determine the proper care services they need. All our tree services are affordable and can be done as quickly as possible so your busy schedule is interrupted as little as possible!
It is imperative you have your trees routinely trimmed and pruned because:
They can remain healthier for longer periods of time
Trimmed and pruned trees are less likely to fall over in extreme weather
Diseased parts of trees can be removed (if possible) so they do not fall later on property
Count on our San Jose tree care services for exceptional, high-quality work. Safety is our first priority, along with your satisfaction, so call us today at (408) 747-1717 to learn why many San Jose residents prefer us over other tree care companies! Complimentary estimates are available.