San Jose Cabling & Bracing
Protect Your Trees from Collapsing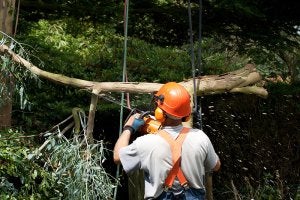 Tree cables and braces are designed to keep branches and trunks from collapsing under pressure or in extreme weather. Our San Jose tree care team at The Tree Team have braced and cabled hundreds of trees to ensure they do not fall on properties and/or people, and we can do the same for your trees. It is ideal tree professionals cable and brace your trees, as it is a very strategic and difficult service to perform if you do not have the proper knowledge.
We can cable and brace a variety of tree types, such as:
Mature trees
Split trees
Multi-trunked trees
Young trees
Our team can cable and brace various kinds of trees, as well, so rest assured we can protect the integrity and structure of your tree. The Tree Team is fully licensed and insured, and we pride ourselves on providing clean, fast, and expert tree services. Call us now at (408) 747-1717 to learn how we can help you!