Tree Removal & Grinding in San Jose
We Can Remove Damaged and Unwanted Trees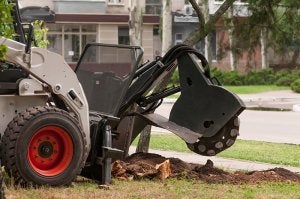 If you notice a tree on your property is diseased, do not ignore it. Diseased or damaged trees that are not removed in a timely manner can eventually fall on your or other peoples' property—which can be a costly problem. At The Tree Team, we can safely remove any and all diseased, damaged, or unwanted trees from your property, as well as remove and grind all stumps. While some companies may charge extra to remove stumps, it is included in our tree removal cost unless otherwise stated.
When you work with The Tree Team, you can enjoy the following benefits:
A fully licensed and insured company
Clean, fast, and expert service
A full-service tree company
24/7 emergency services
In the event your tree or trees do fall unexpectedly, we offer emergency services and can have your tree removed as quickly as possible. Complimentary estimates are available for all our tree services, and our San Jose arborist can be reached at (408) 747-1717 for more information! We look forward to being your one-stop-shop tree care company.